Yayasan PETRONAS would like to invite Malaysian organisations managing welfare homes that are registered with Jabatan Kebajikan Malaysia/ROS to submit their proposal for our pilot programme, Uplifting Lives: Homes.
Kindly read the details and requirements below prior to submitting your proposals.
Programme Overview
Uplifting Lives: Homes aims to support sustainable initiatives at welfare homes. The scope of Uplifting Lives: Homes will include sustainable initiatives to provide better environment for welfare homes whilst supporting them to be self-sufficient.
Uplifting Lives: Homes – Objectives
Support welfare homes (elderly/ orphanage/OKU Homes) to be self-sustaining by embarking on sustainable initiatives.
Bring festive joy and improve the quality of life for the beneficiaries during festive seasons.
Reduce dependency on one-off donations.
Who is Eligible to Apply?
Organisations that meet the following:
Registered with ROS or Jabatan Kebajikan Malaysia.
Able to sufficiently cover the operational cost of the proposed Home.
Owns or has a minimum of 3 years premise lease for the proposed Home.
Free of any legal issues (both the organisation and the premise).
Preference will be given to:
Homes with stay-in occupants.
Organisations with good track record in conducting sustainable initiatives.
Scope of Funding

| | | |
| --- | --- | --- |
| No | Initiatives | Objective |
| 1 | Sustainability | Enable homes to be self-sustaining |
| 2 | Contribution | Ensure necessities of the occupants are met |
| 3 | Celebration | Bring joy during festive seasons |
Exclusion areas (what the funding does not cover)
Building new infrastructure/renovating current infrastructure. (Exception will be given to furnishing existing facilities that support the proposed scope of work e.g., vertical farming structure that requires roof or green house)
Operation cost: Staff salary, training cost that is not related to scope of work, utility bills, rental, etc.
Purchases involving alcohol and tobacco or gambling activities during the celebration.
Important Dates to Remember
Submission deadline: 7 September 2022.
Uplifting Lives: Homes – Application Process Flow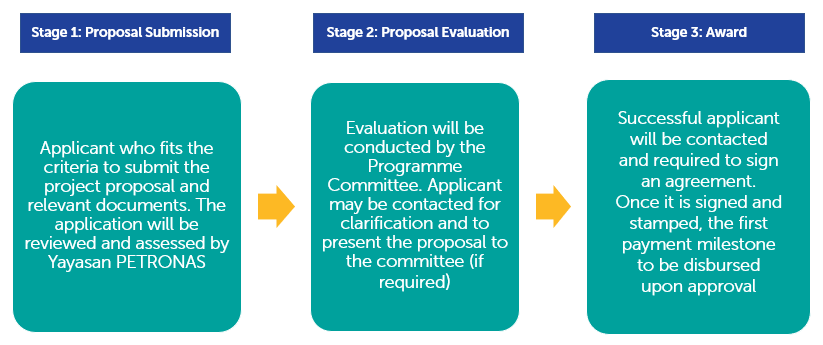 How to Apply?
Applicants to refer to the request for proposal document and Terms & Conditions (T&C) as a guide.
Fill in the KYC form, the application document and proposal deck.
Final proposal to be agreed during kick-off meeting between Yayasan PETRONAS and the selected welfare homes.
Kindly submit the complete proposal to Maz Zafirah Zainuddin (Yayasan PETRONAS) at yayasanpetronas@petronas.com.my by Wednesday, 7 September 2022