Yayasan PETRONAS' CEO, Lita Osman, shares her thoughts on how biodiversity affects our daily lives and can help us flourish, in conjunction with World Environment Day, celebrated each year.

The search for a better and healthier life has been the pursuit of princes, paupers and philosophers alike – as each, over generations, have tried to unlock the secrets to what could better the days in our lives.

Over time our search for a better life has led us to the far reaches of the world and various remedies, but more often than not, the search leads us back to nature, to the forests, oceans and rivers, where we forage for food and other resources. The earth and all its abundance is key to our well-being, especially for food and medicines.

According to the World Health Organisation, human beings depend on biodiversity daily, even though it is not always noticeable. Our health and well-being rely heavily on elements such as fresh water and sources for food. This is the ultimate culmination of how the environment works together. It is an ecosystem operating in harmony.

The interactions between different elements in an ecosystem are intricate. However, some of these connections are under intense pressure. The ecosystem needs time to rebalance and rediscover its equilibrium. If one chain is broke, another one does not always form so quickly. Time is not often on our side as well, and the effects in the wake of development have started to take a heavy toll on the biodiversity and ecosystems around us. A lot of thought and efforts are required to ensure the environment can continue to flourish, for our own sake.
Saving the Environment to Save Ourselves
As we surge ahead in progress, making advancement in technology, it is essential for us to take stock of the impact of our decisions on the environment. It cannot be emphasised enough that there has to be a conscious effort on our part to preserve nature for our survival.

The Food and Agriculture Organisation of the United Nations has said that many key components of biodiversity for food and agriculture at gene, species and ecosystem levels are in decline. The proportion of livestock breeds facing the risk of extinction is increasing. The diversity of crops in farmers' fields also has declined, and threats to crop diversity are proliferating.

Just take a look at the humble bee and the dire consequences when its population drop. Bees are pollinators, supporting the growth of trees, flowers, and other plants, which serve as food and shelter for a variety of creatures. As bees move from flower to flower in search of nectar, they leave behind grains of pollen which allow plants to grow and produce food.
Thousands of reef balls have been embedded into the seabed so that the corals can amalgamate. Sea turtles are returning to land and sightings of dolphins are now back.
This process happens to billions of plants each year, including agriculture crops. Pollinators like bees play a crucial role; without them, many plants we rely on for a source of food would disappear. In short, without bees, our plates would be empty.
One life depends on the life of others – be it creatures great or small, plants or other living things. The abundant life in nature is what could save us, from starvation and other forms of threat to our daily existence. Now, within this perspective, respect for biodiversity is about saving ourselves by protecting biodiversity. And the key to saving ourselves is sustaining the biodiversity and ecosystem which we depend on.

The Case for Imbak: Doing Our Part for the Good of Conservation
At PETRONAS, sustainability is a business philosophy, which also includes environmental conservation and protecting the biodiversity of the forest. The company has been consistently contributing to the well-being of our environment through various conservation initiatives. This includes research, volunteer training, community and public awareness programmes and much more.

In preserving the pristine rainforest's flora and fauna, PETRONAS has, since 2010, invested RM83 million towards the conservation of Imbak Canyon. It is now a gazetted forest protection area which is home to a wide variety of flora and fauna.

Recently, PETRONAS launched the Imbak Canyon Studies Centre (ICSC), a 27-hectare facility that sits within the 27,599-hectare core zone in the heart of Sabah, which is now open for world-class research. The research and documentation of the rich biodiversity within the area is vital as it holds secrets to our heritage for thousands of years and helps us to harness it responsibly for thousands of more years to come.
For this reason, an environment research grant has been designed to spur researches related to biodiversity, carbon sink as well as in renewable energy to help us uncover the mysteries of the forest and its richness. This is just one of the many efforts by PETRONAS to ensure the conservation of biodiversity. For 45 years, PETRONAS is involved in various conservation efforts from marine to mangroves, forests and rivers as part of its commitment towards biodiversity conservation.
Building An Appetite For Change
Human activity is said to be the number-one cause of climate change, which puts mother nature under threat. Conversely, human activity can also be the number one factor that can return nature to equilibrium. When we take care of nature, it will take care of us. Nature is our heritage, the treasure which makes up our world, our home, and therefore, without doubt, our responsibility.

PETRONAS is mindful of operating sustainably, given our responsibility as an energy producer. We hope to join hands with more organisations and individuals in this effort so we can flourish together.

On a personal front, I believe that every little thing would add to the bigger scheme of things. Nothing is too small an effort when it comes to protecting nature. If we do it together, it will all add up. I plant trees in my back garden instead of laying the area with cement. It's a small effort which not only helps beautify the landscape but also forms a natural filter against pollution and provides shade. The trees in the compound are part of a complex, interconnected ecosystem that allows a different number of species to co-exist.
When we make a stand, no matter how small the effort, a piece of the all-important foundation to make a change is in place, an increased awareness, followed by the appropriate initiatives at all level, including personal level, will help keep the ecosystem thriving. This is the key to a better life where all can flourish together.
Yayasan PETRONAS has just released an informational series about Carbon Emissions and climate change, as well as efforts we can make to conserve and preserve our environment.
Follow us on Facebook and Instagram or visit www.yayasanpetronas.com.my to learn more.
You may also take recommended steps outlined for the World Biodiversity Day and read deeper on how it affects our food and health: https://www.cbd.int/idb/2019/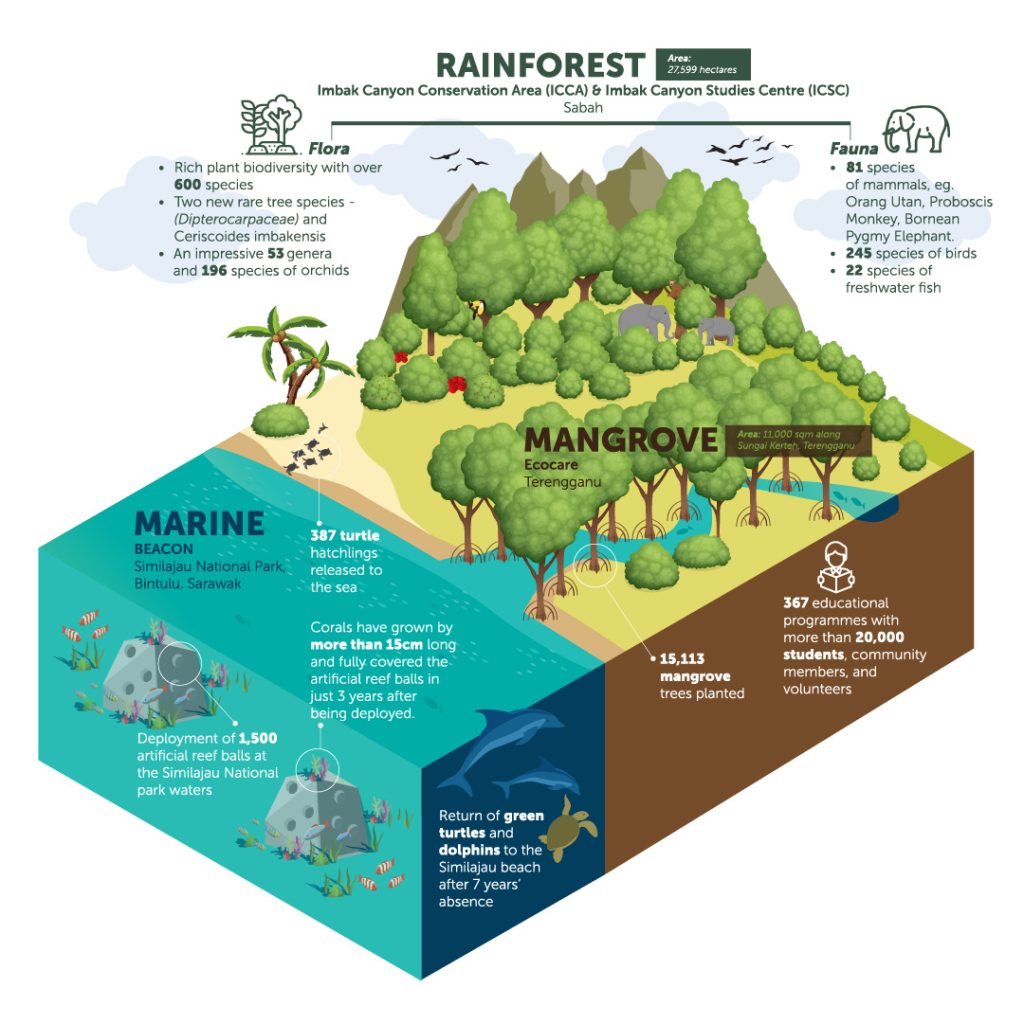 Yayasan PETRONAS' Biodiversity Initiatives

For 45 years, PETRONAS has been involved in various conservation efforts from marine to mangroves, forests and rivers, as it consistently contributes to the well-being of our environment. This list features some of PETRONAS' commitment towards biodiversity conservation.
Area: MARINE
Project Location: BEACON Similajau National Park, Bintulu
Year Started: 2013
Investment & Activities: RM10 million
Outcomes To Date:

Deployment of 1,500 artificial reef balls at the Similajau National park waters
Return of green turtles and dolphins to the Similajau beach after seven years' absence
387 turtle hatchlings released to the sea
Corals have grown by more than 15cm long and fully covered the artificial reef balls in just three years after being deployed.
Area: MANGROVE
Project Location: Ecocare Terengganu. Area: 11,000 sqm along Sungai Kerteh, Terengganu
Year Started: 2013
Investment & Activities: RM10 million
Outcomes To Date:

15,113 mangrove trees planted;
367 educational programmes with more than 20,000 students, community members, and volunteers
Area: RAINFOREST
Project Location: Imbak Canyon Conservation Area (ICCA) & Imbak Canyon Studies Centre (ICSC). Area: 27,599 hectares
Year Started: 2010
Investment & Activities: RM83 million for Imbak Canyon Conservation Area (ICCA) and Imbak Canyon Studies Centre (ICSC)
Outcomes To Date:

Flora

Rich plant biodiversity with over 600 species
Two new rare tree species – Dipterocarpus megacarpus (Dipterocarpaceae) and Ceriscoides imbakensis
An impressive 196 species of orchids

Fauna

81 species of mammals, e.g. Orang Utan, Proboscis Monkey, Bornean Pygmy Elephant.
245 species of birds
22 species of freshwater fish