Powering Knowledge
Yayasan PETRONAS is committed to promoting the advancement and development of human capital and capabilities in Malaysia through provision of education aid and training.
Our programmes strive to improve opportunities for students, especially the underprivileged, to help them realise their potential through Science, Technology, Engineering and Mathematics (STEM) education.
Since 2019, our efforts have impacted over 90,000 students, teachers and district education officers nationwide. We focus on underserved areas to ensure that we progress collectively as a nation.
Ongoing Programmes
Strengthening the Education System
PDG, in partnership with the Ministry of Education, is a nine-year commitment by Yayasan PETRONAS to support and empower 4,500 STEM teachers nationwide by 2030 to raise their students' interest and competency in STEM subjects, and enhance these students' higher-order thinking skills (HOTS).
PDG teachers are upskilled through a comprehensive 24-month programme focused on integrating STEM and Engineering Design Process (EDP). To date, it has covered over 140 districts nationwide, involving 543 STEM teachers as direct beneficiaries and 224 district education officers as PDG coaches.
2. Powering Knowledge: Applied Leadership Programme for School Transformation (ALP)
ALP is an eight-month programme focused on developing future-ready leaders who will drive change in schools within their districts. The programme, designed for district education officers, is conducted by Edvolution Enterprise via a grant awarded by Yayasan PETRONAS in 2022.
To date, 64 education officers from 17 districts have implemented various initiatives aimed at addressing learning loss, covering aspects such as teacher competency, academic performance, student involvement and literacy.
Supporting high-needs students
3. Bridging the Online Learning Divide (BOLD)
BOLD aims to address learning losses caused by COVID-19 by assisting high-needs students to quickly catch up with their peers and participate meaningfully in learning moving forward. BOLD provides underprivileged Year 1-3 students, who were most severely affected by Covid-19 school closures, with internet-enabled digital devices and dedicated learning support.
In 2022, BOLD impacted 2,000 students across six states who were supported through between 14 to 28 weekly one-to-one tutoring sessions focused on English literacy and STEM activities. Further, 740 volunteers and 1,250 parents were recruited and upskilled as tutors.
4. CERDIK
In response to Covid-19 school closures, Yayasan PETRONAS supported the nation's CERDIK initiative to enable students to access online learning during school closures and future digital learning experiences when schools reopen. Yayasan PETRONAS provided students across Malaysia with iPads and data connectivity during the height of the Covid-19 school closures.
In 2021, Yayasan PETRONAS contributions of iPads and data connectivity, worth over RM30 million, impacted 12,000 students from over 82 schools across Malaysia.
5. Back to School (BTS)
BTS is an annual programme by Yayasan PETRONAS to support student enrollment and participation in school by lessening the financial burden of B40 parents. The programme aims to enable students to continually participate in the education process so that they, in turn can become active contributors to the development of society.
Since 2019, 57,000 students from schools over 6,000 schools nationwide have received essential learning items including School Bags and School Uniforms through BTS.
6. Yayasan PETRONAS empowerNCER Akademik & Yayasan PETRONAS empowerECER Akademik
In partnership with NCIA and ECERDC, the Yayasan PETRONAS empowerNCER Akademik and Yayasan PETRONAS empowerECER Akademik programmes support underperforming B40 SPM students to improve their academic performance and assist in tertiary education progression. Students are provided with over 100 hours of training and support, and upon completion of their SPM examination, are guided in their tertiary education application to ensure that obtain placement and continue their education.
Since 2020, the two programmes have collectively impacted 3,750 students across six states.
7. Independent Learning Centre (ILC)
Yayasan PETRONAS provided a grant to Persatuan Sokongan Ibu Bapa Remaja Perlis (PSRIP) to fund the upgrading work of their ILC. The grant funding covers the renovation and upgrading of the ILC, including facilities for classes, multipurpose hall, sickbay, office, frozen food processing, outdoor gym, and mini therapy park.
Since its completion in 2022, the new ILC has enabled PSRIP to improve its services, accommodate a larger student intake, and fulfill its education and vocational syllabus requirements.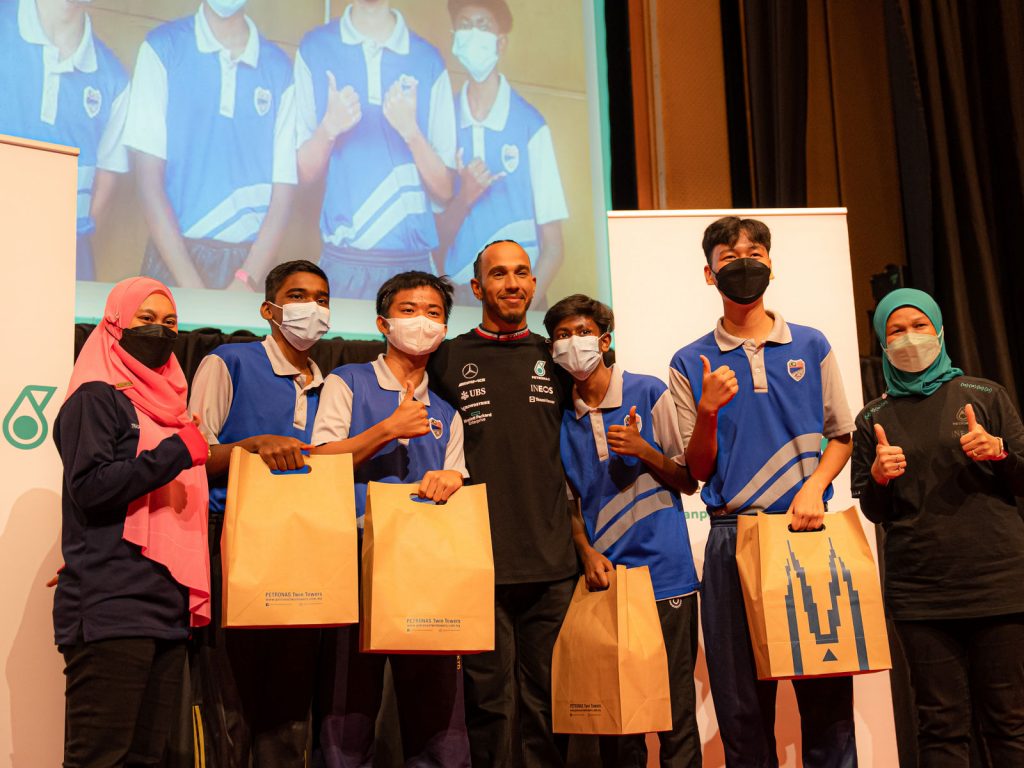 Past Programmes
Here is an overview of other education initiatives we supported previously.
Students from rural areas often have to travel for hours to reach school. To help remove education barriers, alleviate socio-economic pressures and tackle student dropouts, PETRONAS is building two Rural Daily Hostels in Pulau Balambangan, Sabah, and Paloh, Sarawak, which provide a transit location en-route to school and back during the day and week. Through its foundation, Yayasan PETRONAS, has taken a significant step by funding the furnishing of the hostels.
PETRONAS funds the annual education allowance of selected students from underprivileged families in 6 MRSMs in Sabah and Sarawak, for school uniforms, textbooks, sports apparel, learning aids and other items. To date, RM2 million has been invested and 481 students have benefited from this programme, which is a collaborative effort with MARA.
Initiated by the State Government of Terengganu, this programme enhances English communication skills amongst local students. Since 2015, PETRONAS has contributed over RM1.3 million towards supporting 40 secondary schools and 10 primary schools throughout the state. The initiatives include the Mega TRENGLISH camp, circulation of magazines, newspaper insertions and TRENGLISH activities in schools.
Yayasan PETRONAS will roll out a nationwide competition on social entrepreneurship in the digital age for Malaysian youths.
Students can be taught to creatively use science and technology to solve real world issues. We want to promote a culture of innovation amongst students.