Grant applications are now closed
IMPORTANT NOTICE:
Due to overwhelming response, our team is prioritising replies to those who are eligible. If you have submitted your application and have not received a reply to proceed to Stage 2 yet, please consider your application will not proceed for this round. We thank you for your time and patience.
---
Yayasan PETRONAS Proposal Guide 2022
Please read before submitting an application
In line with our mission of 'Enriching lives for a sustainable future', Yayasan PETRONAS aims to achieve this by working with like-minded organizations as our partners. We provide grants to initiatives that are aligned to our focus areas: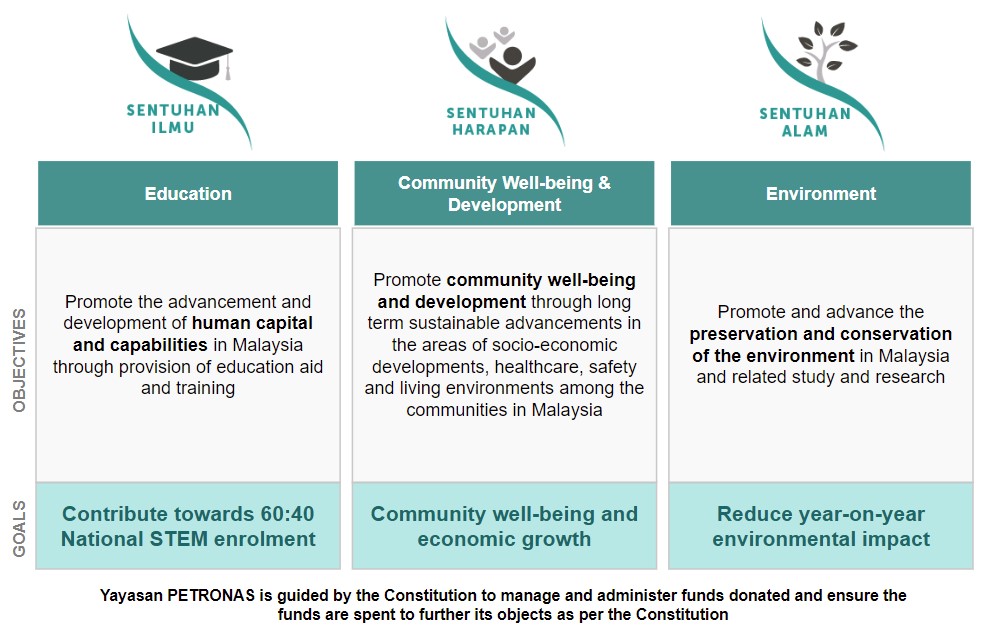 Yayasan PETRONAS typically supports proven projects that require funding to scale or new initiatives in which the organization has strong expertise in. The projects should have long-term impact to the targeted beneficiaries, have outcomes and impact that can be clearly measured and can be self-sustaining upon the programme's exit. In general, we accept projects that can be completed within 3 years, with a funding estimate of RM1,000,000.
For this round of grant cycle, we also look to support proposals that specifically fit the following. Click on the respective topic for more details:
CWD – MEKAR @ Sabah and Sarawak
ENV – Circular Economy
The cut-off submission date for the full proposal (if you have passed the eligibility assessment) is on 14 August 2022.
Please note that Yayasan PETRONAS does not fund the following:

How to Apply
1) Eligibility Assessment
Applying organisations would have to ensure that they meet the following eligibility criteria:
Applicant must be registered Not-For-Profit Organisations, NGOs, Foundations, Social Enterprises or academic institutions. Preference will be given to Not-for-Profit Organisations.
Applicant must be located and operate in Malaysia.
Applicant must have experience and proven capability in conducting similar project
Kindly fill in this template and submit the following documents to yayasanpetronas@petronas.com.my to determine your eligibility for Yayasan PETRONAS Grant. Our team will contact you within 5 days to request for further information if needed.
List of documents
Registration Certificate e.g. from The Registry of Societies Malaysia, Companies Commission of Malaysia and/or MAGIC Registration Certificate for Social Enterprises (if applicable)
Most recent Cash Flow Statement (minimum past 3 years)
Most recent annual report / audited accounts (up to minimum past two years)
Inland Revenue Board certificate showing tax-exempt status (*for tax-exempt organisations)
2) Submission of Proposal
Upon receiving an eligibility confirmation from our team, you will receive an editable copy of the Proposal Paper Template, Proposal Presentation Template and KYC form.
The completed project / programme proposal should be submitted to the YP Grant team. Our team will schedule a call with the organization to gain a better understanding of the proposal.
You may include other information that may assist Yayasan PETRONAS in gaining a better understanding of your proposal.
3) Decision for Proposal
Yayasan PETRONAS will schedule a session where shortlisted applicants will present the finalized proposed project / programme to our Evaluation Committee members, which sits on a quarterly basis.
Successful applicants will be notified via email to proceed to contract negotiation and finalization stage.
4) Proposal Implementation

Grant recipient will implement the project as per final proposal agreed by both parties. The implementation of the project will be in close coordination with our Operations team. Results and impact of the project will be monitored and evaluated.
Should you have further questions, please email yayasanpetronas@petronas.com.my with your queries. Our team will assist to answer your questions and provide the necessary guidance with your application.