Uplifting Lives
At Yayasan PETRONAS, we promote community well-being and development through long-term sustainable advancements in the areas of socio-economic developments, healthcare, safety and living environments among the communities in Malaysia.
Ongoing Programmes
Uplifting Lives: MEKAR
Program Memampankan Ekonomi Asas Rakyat ("MEKAR") is a flagship programme under Yayasan PETRONAS' Community Well-Being and Development pillar that aims to bring about sustainable economic growth to B40 families in urban and rural areas.
Through collaboration with multiple strategic and implementation partners, we help uplift the lives of these beneficiaries by providing basic necessities, as well as training in entrepreneurial skills that enable them to build a sustainable source of income.
1. Fulfilling Basic Needs
Uplifting Lives: MEKAR Phase 1 focused on the provision of energy and water to beneficiaries in Johor and Sabah via the following initiatives:
a. Energy – MEKAR Johor @ Kluang
Yayasan PETRONAS reached out to brighten the lives of the community in Kampung Orang Asli Berasau, a settlement in Johor without access to the national grid, by providing solar-powered electricity to the village.
We also contributed five units of portable photovoltaic (PV) solar technology and two sets of solar hydroponic systems to SK Seri Sedohok Orang Asli, a boarding school for primary students from seven Orang Asli villages, to help raise awareness and interest in STEM subjects.
b. Clean Water – MEKAR Sabah @ Pitas
Residents in this community used to rely on rainwater and long trips to rivers and jungles for their water supply. But with this programme, they now enjoy clean and safe water, following the installation of water supply systems in five villages benefitting some 200 families.
With these systems that are simple to operate and make water much easier to access, these villagers can now focus on improving their socio-economic status without the added stress of water scarcity.
2. Strengthening Income Generation
Uplifting Lives: MEKAR Phase 2 focused on skills and entrepreneurship development for beneficiaries in the Northern Corridor Economic Region (NCER) and East Coast Economic Region (ECER):
Learning Skills and Entrepreneurship Training
We supported over 1,900 beneficiaries through the Yayasan PETRONAS empowerNCER and empowerECER Skills and Entrepreneurship Development programmes, which help improve the living standards and income streams of B40 communities in these regions.
We have committed to continue supporting another 1,400 beneficiaries from seven districts in the north, and another 1,400 from 7 districts in the east coast.
3. Go to Market
MEKAR Phase 3 (Go-to-Market) focuses on business acceleration to enhance the entrepreneurial skills of the beneficiaries and helped them gain market access.
Equip with business acumen and connect to market
Yayasan PETRONAS has supported 45 beneficiaries in Kuala Nerus, Terengganu and 60 beneficiaries in Kapar, Selangor under business accelerator course that focused on mindset change, building resources, enhancing skills, business acumen, product delivery and profitability. This programme was implemented by Yayasan MyKasih and Yayasan Sejahtera respectively.
Yayasan PETRONAS in collaboration with its strategic partners, NCIA and ECERDC has introduced Yayasan PETRONAS EntrepreneurNCER and Entrepreneur ECER programmes to provide advance entrepreneurial training and SIRIM certifications to 720 selected beneficiaries from the Yayasan PETRONAS empowerNCER and empower ECER Skill Training and Entrepreneurship Development programmes. The certifications offered under these programmes includes packaging and branding development as well as quality management to further accelerate the businesses of the beneficiaries to widen their market reach.
Better Health – Cancer Research
Since 2001, PETRONAS has contributed to Cancer Research Malaysia (CRM) including for the establishment of laboratories, advancement in precision medicine, accelerate cancer prevention and treatment in Asian population. Yayasan PETRONAS has committed to continue supporting CRM's research and fund Patient Navigation Programme, a programme designed to facilitate B40 communities to increase awareness and access to early detection by screening, rapid referral, timely diagnosis, and support during treatment through Pink Ribbon Centres in identified public hospitals.
Yayasan PETRONAS is also supporting paediatric cancer research through its grant to Universiti Kebangsaan Malaysia called Initiative for Precision Medicine in Paediatric Cancer Therapy (IMPACT). IMPACT aims to increase the survival rate of paediatric cancer patients to be on par with advanced countries especially for patients with poor prognosis and to increase the quality of life for cancer survivors.
Better Health – Supporting AIDS Patients
With grant provision to Malaysian AIDS Foundation (MAF), Yayasan PETRONAS empowers 30 single mothers and women living with HIV through MyLady Assistance Scheme Programme, which provides microcredit business loans to support home-based enterprise with the aim to lift them out of poverty and reduce their vulnerability. Through MAF SAGA Health Access Programme (SHAPE), Yayasan PETRONAS assisted B40 patients with HIV, Thalassemia and paediatric illness from rural Sabah to attend their treatment appointments by subsidizing the high logistical costs to local hospitals or clinics.
Uplifting Lives: Festive
Our annual Uplifting Lives: Festive programme brings cheer to families during major festive occasions, including Chinese New Year, Hari Raya Aidilfitri, Gawai Dayak, Kaamatan, Deepavali and Christmas.
We collaborate with PETRONAS' regional offices and the Department of Social Welfare (JKM) to distribute essential food supplies such as rice, cooking oil, flour, festive food items, as well as hampers containing an assortment of cookies supplied by MEKAR beneficiaries or B40 entrepreneurs.
Uplifting Lives: Homes
Uplifting Lives: Homes, an extension to Festive, is a pilot programme currently focused on sustainable measures for four welfare homes in Sabah, Melaka, Terengganu and Kedah.
Efforts under this programme include festive celebrations, contribution of home supplies, income-generating activities, as well as funding for other initiatives that help provide a better environment for the occupants.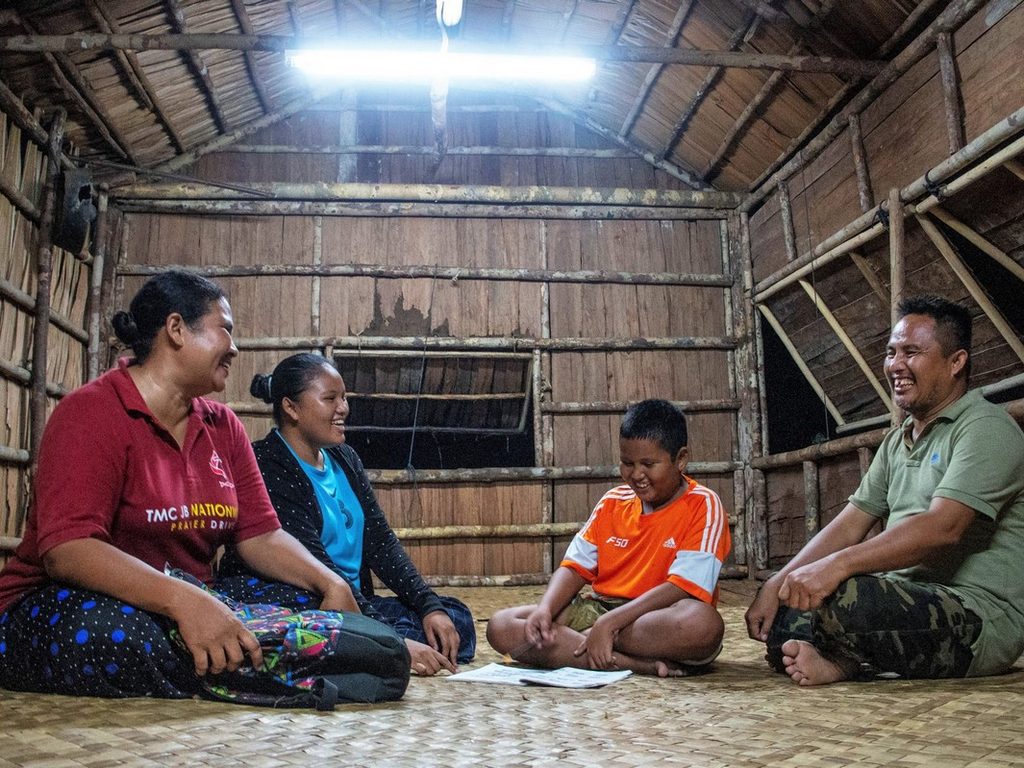 Past Programmes
Here is an overview of other community well-being initiatives we supported previously.
In 2021, Yayasan PETRONAS provided relief for communities impacted by Covid-19 pandemic through the contributions of medical and non-medical equipment to hospitals and frontliners as well as food aids for more than 14,400 families under the Foodbank initiative in collaboration with PETRONAS Dagangan Berhad.
Partnering with MyKasih, PETRONAS has stepped in to provide food and various essential supplies to affected families of floods and other natural disasters. The items, including bottled water and tissue paper, help get them back to their daily lives and reduce the risk of transmittable diseases.
With our partner Malaysian Nature Society (MNS), PETRONAS prioritises water conservation for future generations. There are a number of villages and communities living without piped water. This programme addresses the issue by creating facilities that supply clean water to the community.