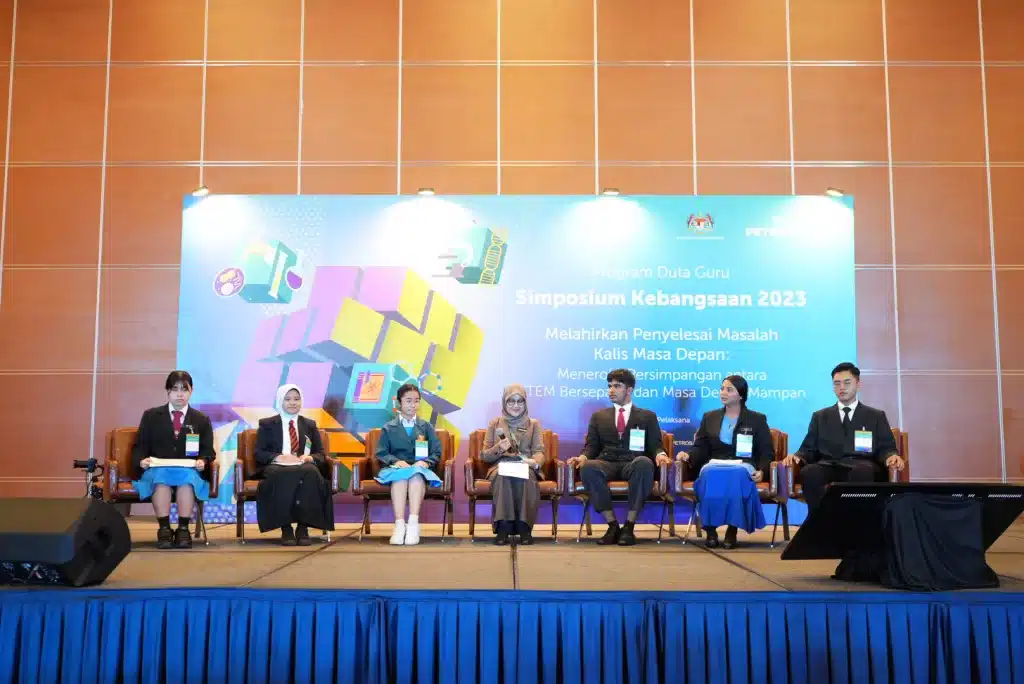 KUALA LUMPUR, 18 OCTOBER 2023 – Yayasan PETRONAS in collaboration with Teach For Malaysia (TFM), through its Program Duta Guru (PDG) initiative, organised its largest PDG National Symposium to date, in a bid to bridge the gap between real world solutions and tackling Science, Technology, Engineering, and Mathematics (STEM) related problems in the classrooms.
The two-day conference—themed of Building Future-Proof Problem Solvers: Exploring the Intersection between Integrated STEM and a Sustainable Future–gathered over 900 attendees including key stakeholders, policymakers, educational subject experts, teachers and students from around the nation. Held for the third consecutive year, the conference featured two keynote sessions, panel discussions and exhibition by teachers, NGOs and the private sector, provided attendees the opportunity to gather, connect and share knowledge and best practices in education.
Dr. Ahmad Rafee Che Kassim, Deputy Director-General of Education, Policy and Curriculum Sector officiated PDG National Symposium 2023 and shared his optimism in the progress and development of the teacher training programme.
"I am glad to see that we have begun to reap the fruits of labor from PDG. This is made possible by the collective effort between Yayasan PETRONAS and the Ministry of Education. This year, we recorded and exceeded the STEM enrolment rate of 45% among students nationwide. We are in the right direction, and, with consistent effort, we can go further."
The Symposium also saw its first Student Roundtable Discussion on the topic of Empowering Future Innovators: Fostering a Culture of Problem-solving and Critical Thinking in STEM Classrooms where students shared how they applied higher order thinking skills in studies and STEM projects.
Shariah Nelly Francis, CEO of Yayasan PETRONAS in her welcoming remarks said: "PDG is very much aligned with the 12th Malaysia Plan in ensuring equal access to quality education, regardless of location and background. We are also heartened by the Government's initiatives as outlined in the recent Budget 2024 to further advance the nation's STEM enrolment. This demonstrates the commitment of the country in cultivating the students' interest in STEM in producing a highly skilled workforce that can propel Malaysia's economic progress."
The National Symposium concluded with a Duta Guru recognition, where 243 teachers from Cohort three of PDG received the Duta Guru award. The award also marked the start of their journey as a catalyst for STEM education in their respective schools and districts after completing the 2-year training session.
PDG is currently training its fourth Cohort consisting of 453 STEM teachers from secondary schools nationwide.
About Yayasan PETRONAS
Yayasan PETRONAS is the Social Impact arm of PETRONAS. Its mission is to deliver positive and sustainable impact on the well-being of society across the nation through its focus areas in Education, Community Well-being and Development and the Environment. 


Issued by:
Yayasan PETRONAS
For media enquiries, please contact:
Yayasan PETRONAS
Lim Shie-Lynn: +6012 304 3389 | shielynn.lim@petronas.com.my
Low Jia Yin: +6012 3858 631 | low.jiayin@petronas.com.my