KUALA LUMPUR, 14 October 2022 – Yayasan PETRONAS through its signature education programme, Program Duta Guru (PDG) recently collaborated with Petrosains to host a special sharing session here, with seven-time world champion Mercedes-AMG PETRONAS Formula One driver Lewis Hamilton.
10 PDG teachers and 40 lower-secondary school students were selected to join the 'Ready, Set, Accelerate! STEM winning formula with Lewis Hamilton' session at KL Convention Centre. They participated in the Elasticity, Potential, and Kinetics (ELPOKI) Car Project Workshop which culminated at the end of the session in the ELPOKI Car Heat Race.
ELPOKI comprises three main science concepts involved in building an ELPOKI Car model. During the workshop, the teachers engaged in a Science, Technology, Engineering and Mathematics (STEM) lesson that focused on designing a mechanical car for the ELPOKI Car project. They then used the Engineering Design Process (EDP) to structure and communicate their project development as they facilitated the students' reflection on adapting the activity for classroom learning in a later session.
Dalila Yahya, a teacher from Cheras Secondary School said, "It was good to see the students learning from each other. Their communications skills or 'soft skills' are important to convey ideas well. We would also like to thank Yayasan PETRONAS for providing enough equipment for the students to 'explore' in building the models. They managed to complete two ELPOKI Car models utilising the equipment given".
Student Nur Eldina Zainuddin from Vivekananda Secondary School said, "My favourite session today was when we got to build the ELPOKI Car together with our teams. This competition taught us that there must be teamwork in every task we do to succeed."
The students also had the opportunity to interact with Hamilton during a question and answer (Q&A) session with the British racing driver, where he pointed out the important role that educators play. He said, "It is a difficult job being a teacher, they have such an incredible power in influencing youth. For me, having good role models is important to encourage everyone that there are no limits to what you can be."
Hamilton was in Kuala Lumpur for the renewal of the PETRONAS and Mercedes AMG Title and Technical Partnership from the 2026 season onwards.
Launched in 2019, PDG is Yayasan PETRONAS' flagship education programme in collaboration with the Ministry of Education, that aims to improve and solidify the capability of local public-school teachers to promote students' interest and competency in STEM subjects and enhance their higher order thinking skills.
The programme is in line with Yayasan PETRONAS' goal of contributing towards 60:40 National STEM enrolment.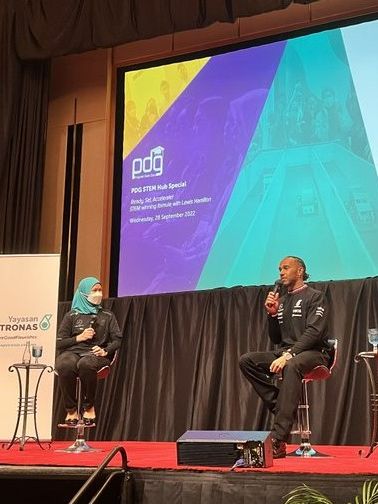 Issued by:
Yayasan PETRONAS