50 Schools in 5 States Compete in Projects to Reduce Carbon Emissions
KUALA LUMPUR, 18 April 2019 – Secondary school students from 50 schools in five states are competing in Yayasan PETRONAS' Sentuhan Harapan – All About Youth (AAY 2019) – a programme for Malaysian students to become agents of change by transforming their ideas into powerful solutions.
The competition, involving 200 students from Form Two and Form Four, from schools in Sabah, Sarawak, Terengganu, Melaka and Johor, will carry the theme, "Reducing Carbon Emissions for a Better Future".
The students will compete to develop and implement sustainable community projects, supported by their teachers and PETRONAS volunteers.
Acting Chief Executive Officer of Yayasan PETRONAS Lita Osman said through AAY 2019, PETRONAS is encouraging youths to address issues which can positively impact the society.
"We want to help develop citizens who care for the planet and embrace sustainable development by creating opportunities for students, particularly from rural areas, to turn their ideas into impactful inventions. They can transform concepts into action by applying their knowledge in science, technology, mathematics and engineering (STEM)," she said.
Lita added that Yayasan PETRONAS believes AAY 2019 will provide students with the skills on creative, lateral thinking and collaborative work to help them develop capabilities to become future leaders.
AAY 2019 includes a new feature, the Technology Toolbox, which allows students to develop a functional prototype to compete during the Chairman's Circle championship in December, that offers a grand prize of RM30,000.
All About Youth focuses on driving social innovation, providing students with tools and techniques to create solutions which improve the well-being of society. AAY is also aimed at supporting the Government's 60:40 target ratio of STEM-Arts enrolment as well as the country's aspiration to reduce carbon emissions. Since 2014, AAY has reached more than 200 schools and 4,600 students. More than 150 PETRONAS volunteers or 'buddies' have nurtured, tutored and motivated participants. As a result, 200 impactful community projects have been successfully developed.
Gallery of Sentuhan Harapan All About Youth 2019
---
AAY 2019 Programme Mechanics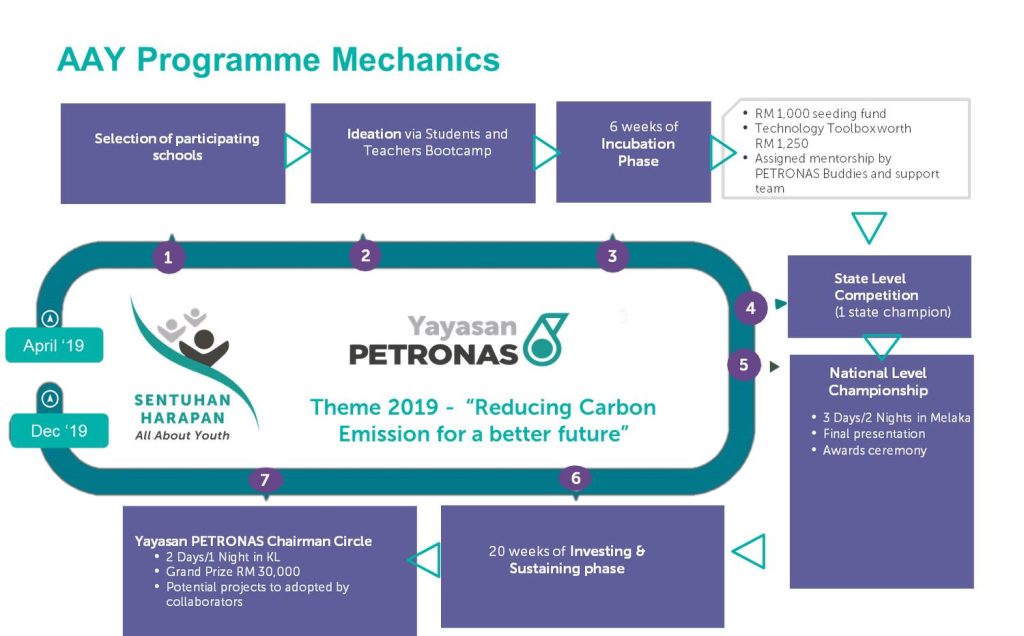 Students from 50 schools in 5 states (see list below) are selected.
Teachers and students are taught Design Thinking principles to generate ideas.
The 50 participating schools each receives RM1,000 seed funding, a Technology Toolbox worth RM1,250 and mentoring by PETRONAS volunteers to further develop their project over 6 weeks.
The school teams will present their respective projects at a state-level competition.
The winning school from each state will then enter the national-level championship to compete for RM20,000 to be used for school refurbishment; the second-placed school receives RM10,000 while third place gets RM5,000; RM1,000 will also be deposited into each student's National Education Savings Scheme (SSPN) account.
These top five schools will then have another 20 weeks to further enhance their project.
The winner of the Yayasan PETRONAS Chairman's Award will take home a Grand Prize of RM30,000 cash.
Past AAY Winners
2015 Champion: SMK Tamparuli, Sabah
Issue: Residents often cross the low-lying Tamparuli bridge in times of heavy rain, resulting in people being stuck or washed away by the currents.
Solution: A flood alert system to warn pedestrians and motorists not to cross the bridge when it is deemed unsafe.
2016 Champion: SMK Tatau, Sarawak
Issue: Rising cost of living – including higher utility bills.
Solution: An eco-friendly Green Toilet at their school using solar gutter lights and rain water to save energy and water.
2017 Champion: SMK Tinggi Melaka
Issue: History is often considered to be a boring subject among students.
Solution: A mobile app (Histomap) to help secondary school students study History. The team had summarised 42 chapters of their History textbooks (Forms One to Five) in the form of 370 mind maps in PDF format. To date, the app has recorded more than 1,500 downloads.
List of Participating Schools in AAY 2019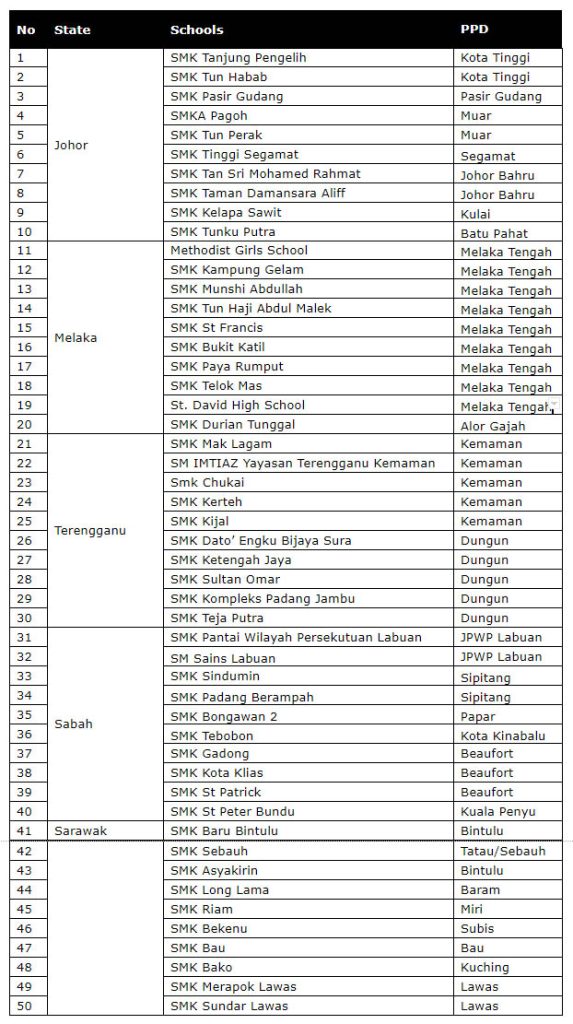 Issued by:
Yayasan PETRONAS
For media enquiries, please contact:
Lim Wei Wen: +6012 3223476 | weiwen.lim@petronas.com
Reshvinder Kaur: + 60 17-275 7985| resh.kaur@ceria.asia