KOTA KINABALU, 25 August 2023 – Seven groups comprising 60 secondary school students from SMK St. Peter Telipok and SMK Perempuan Likas hovered at the backstage on the morning of 4th August 2023, awaiting to be called to present and share their interventions to a panel of judges.
They were part of the Powering Knowledge – Yayasan PETRONAS Coding4All (YPC4All) programme, which encourages students to use creativity, science, and technology to solve specific problems.
The solutions presented ranged from motion detection sensors to help farmers prevent cattle theft, to a nifty smart window that opens and closes automatically, using an application that syncs with local weather forecasts.
In pitching these solutions to the judging panel, they applied the 4Cs – critical thinking, collaboration, communication, and creativity– skills that are essential for students to thrive and succeed in the future.
"I have learnt so much from the programme. Aside form learning to code, it has helped me to better understand the importance of group work and communication in our project," said Mohammad Aman Shah, 14, a participant who was part of the smart window application team from SMK St. Peter Telipok.
The programme was organised by Yayasan PETRONAS in collaboration with the Ministry of Education Malaysia through its Bahagian Pengurusan Sekolah Harian, and Petrosains as the implementation partner.
Chief Executive Officer of Yayasan PETRONAS, Shariah Nelly Francis, said, "Students were exposed to the introduction of technology that is part of the Industrial Revolution 4.0 (IR4.0) as an initial preparation for them to understand and cultivate interest in Science, Technology, Engineering and Mathematics (STEM) education, as career opportunities in this field are growing rapidly."
The programme stared in July 2022 until August 2023, involving 35 trainers and a target of 210 Form One students from seven schools namely SMK Impian Emas, Johor; SMK Bandar Uda Utama, Johor; SMK Tan Sri Mohamed Rahmat, Johor; SM St. Peter Telipok, Sabah; SMK Perempuan Likas, Sabah; SMK Bandar Samariang Sarawak; and SMK Pending, Sarawak.
The finale event served as a platform for participants to practice the 4Cs learned from the programme and showcase the results. Additionally, there was also a session for them to interact with their STEM Idol, providing them with the opportunity to gain insights and knowledge on careers in STEM.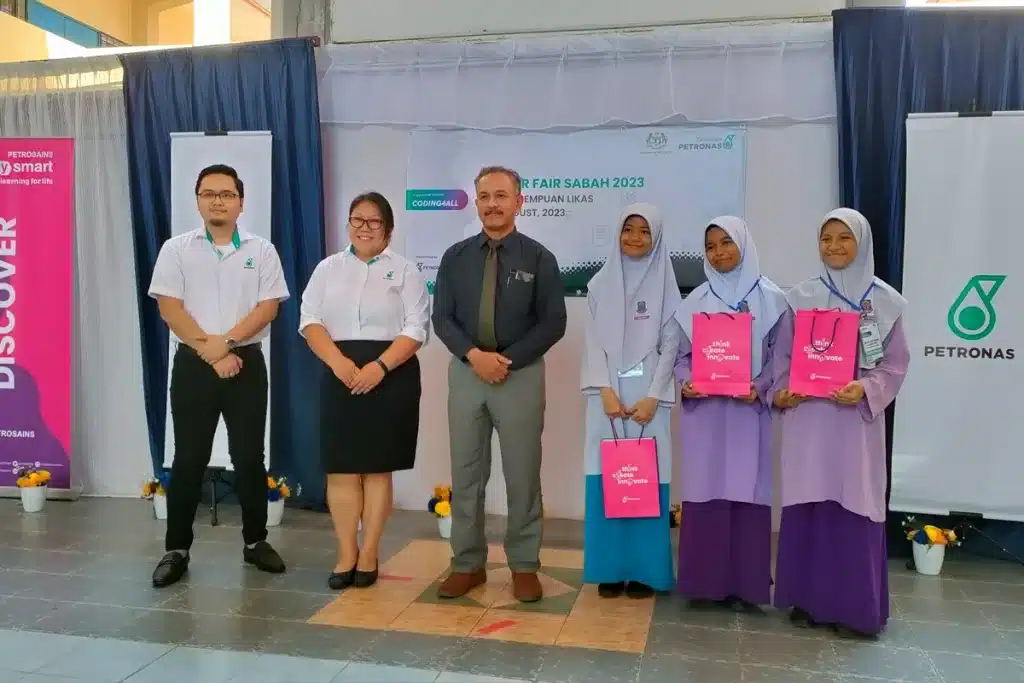 Issued by:
Yayasan PETRONAS