KLUANG, 2 December 2021 – Yayasan PETRONAS, has reached out to brighten the lives of the Kampung Orang Asli Berasau community by providing solar-powered electricity to the village. A total of 11 houses, two cultural houses, and a community hall have been installed with solar power systems under the Sentuhan Harapan MEKAR Johor@Kluang programme.
This programme is organised in collaboration with Jabatan Kemajuan Orang Asli (JAKOA) Johor, Kampung Orang Asli Berasau and Yayasan Universiti Tun Hussein Onn Malaysia (UTHM). The aim is to enhance the livelihood and economic growth of the underprivileged communities through the provision of solar-powered electricity that promotes the sustainability essence in support of PETRONAS Sustainability agenda.
Sentuhan Harapan MEKAR Johor@Kluang, under the flagship Program Memampankan Ekonomi Asas Rakyat (MEKAR), also supports Yayasan PETRONAS' objective in promoting community well-being and development through long term sustainable advancements in the areas of socio-economic developments, healthcare, safety and living environments.
Located 50km from Kluang town, Kampung Orang Asli Berasau is the only settlement in Johor without access to the national grid. In the last 20 years, the community has been living in the dark, relying solely on diesel generators they shared amongst themselves for its 2-hour supply of electricity every day.Under this solar initiative, each house now receives a basic electricity supply with batteries that can last up to three days during the rainy season, LED lamps, fans, and several USB ports for phone charging. With solar-powered electricity, each household is able to save an estimated RM450 a month, reducing the financial burden the community has faced for many years. In addition, one of the Rumah Adat has been provided with a freezer (a common freezer for all) equipped with an additional solar panel to ensure that it remains functional for the community. With this initiative, it benefits 70 villagers from 17 families aged four to 70 years old.
As part of this programme, the community was taught and trained to perform basic maintenance on the solar panels to ensure their efficiency and sustainability. Additionally, the solar power systems were inspected and verified by technical experts for safety.
Sari Achu, Tok Batin, Kampung Orang Asli Berasau shared his joy of having solar-powered electricity with YB Tuan Vidyananthan a/l Ramanadhan, Johor Health and Environment Committee Chairman, during the launch of the Sentuhan Harapan MEKAR Johor@Kluang solar initiative in Kampung Berasau, together with Shariah Nelly Francis, Chief Executive Officer of Yayasan PETRONAS, and Sazli Zakaria, Head of PETRONAS Southern.
"We appreciate the collaboration of all parties involved. It is heartening to see the advancement and amenities that we are able to provide with this programme. This initiative brings light and hope for so many, paving the road to a sustainable development and future for the community here. This is a start, and we aim to reach out to improve the livelihood of more communities and locations in the future," said Shariah Nelly Francis, Chief Executive Officer of Yayasan PETRONAS.
Sazli Zakaria, Head of PETRONAS Southern, also said, "We can now celebrate the successful implementation of this programme after months of hard work and collaboration with JAKOA, as well as the Orang Asli community. Our sincere thanks to all the parties involved, especially the community, for their full commitment to this sustainability programme. We do hope that by brightening their darker hours, we have somewhat paved their ways for a brighter future."
The Sentuhan Harapan MEKAR Johor@Kluang programme is part of Yayasan PETRONAS' community well-being and development focus area. This programme is also in line with the PETRONAS Sustainability Agenda and the United Nations' Sustainable Development Goals.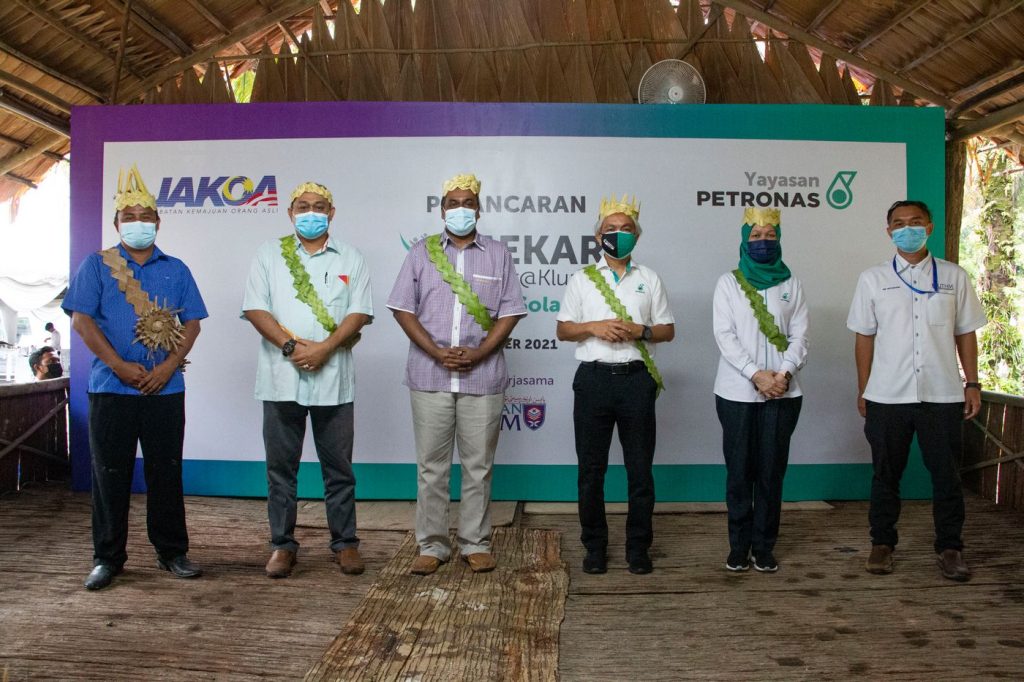 Issued by:
Yayasan PETRONAS
For media enquiries, please contact:
Yayasan PETRONAS
Carol Wong: +6012 296 9281 | wong.yuetmeng@petronas.com 
PETRONAS
Nor Khalidah Hassan: +6013 772 4287 | norkhalidah.hassan@petronas.com