Kuala Lumpur, 7 April 2021 – Yayasan PETRONAS, through its Program Duta Guru (PDG) initiative, has successfully equipped its first cohort of 136 Science, Technology, Engineering, and Mathematics (STEM) teachers for hybrid teaching via classroom and virtual modes across 113 school districts in Malaysia.
Over the past months, each teacher received an online teaching kit which includes a mini green screen kit, a pedagogical book Pembelajaran Abad-21 and school stationery to help make online lessons effective, fun and interactive. They also received guidance on how to innovate and apply these items to create more engaging virtual lessons for their students.
With public secondary schools reopening this week, over 180,000 school teachers are expected to transition back to regular teaching duties in Malaysia. Despite this, teachers would still need to continue with the online delivery of lessons as and when needed.
"Our teachers are critical to the nation's progress – they play such a huge role in the success of our students. Together with our partners, we are supporting the teachers' professional development so they may better help students navigate the new normal and enhance their Higher Order Thinking Skills (HOTS) through the STEM subjects," said Yayasan PETRONAS Chief Executive Officer Shariah Nelly Francis.
Initiated in 2019, PDG is a collaboration between Yayasan PETRONAS and the Ministry of Education's Pusat STEM Negara, with Teach For Malaysia as the implementation partner. It aims to strengthen the teachers' capability and continuously improve their teaching quality through training and coaching, curated content and by providing infrastructure.
PDG was rolled out through a series of three virtual sessions last year, where teachers gained insights from successful innovators in STEM education, discussed trends and challenges in the field – including how to effectively manage online classrooms and improve student learning outcomes.
Chief Executive Officer of Teach For Malaysia, Chan Soon Seng said, "Along with the rest of the world, the future of educators is one fused with technology. Teachers will need to become savvy users of digital tools, as well as creators of online content and knowledge. They need to help their students foster these skills for the future workforce as well."
Since the delivery of the online teaching kits in December, many teachers have taken the opportunity to prepare ahead for their lessons this year.
"This programme is very beneficial to me. It has impacted how I apply integrated STEM teaching into delivering online lessons. It also helped in boosting my confidence to be a STEM leader in school," said Zulfadzli Mahamad @ Muhamad, a teacher from SMK Trusan, Sarawak who is part of PDG's Cohort 1.
Another PDG inductee from Labuan, Angela Joseph went a step further to collaborate with Yayasan PETRONAS in creating videos on the practice of good personal hygiene for primary school students. The collaboration was part of Yayasan PETRONAS' Back To School programme, where 21,000 underprivileged primary school students received school supplies and personal hygiene kits.
"PDG taught me how to engage with students virtually and share these key takeaways with our teacher community groups. Through the collaboration with Yayasan PETRONAS, I am glad that students nationwide can also benefit from science to help them remember to follow the SOPs and stay safe," said Angela.
Senior Principal Assistant Director of the National STEM Centre, Dr. Ihsan Ismail said, "With STEM teachers so consequential to the future of our students, we must address their needs as they face new challenges in their work. We hope to see more organisations stepping forward to collaborate with us in improving the quality of teaching in Malaysia."
By 2030, PDG aims to have empowered 4,500 teachers to be highly capable STEM educators serving as role models in enhancing students' interest and competency in STEM education and higher order thinking skills.
Each teacher cohort will undergo a two-year training comprising workshops, online training, industry visits, and participate in projects that address issues hindering the progress of STEM in their student communities. PDG's Cohort 2 is set to be inducted through a virtual session this month.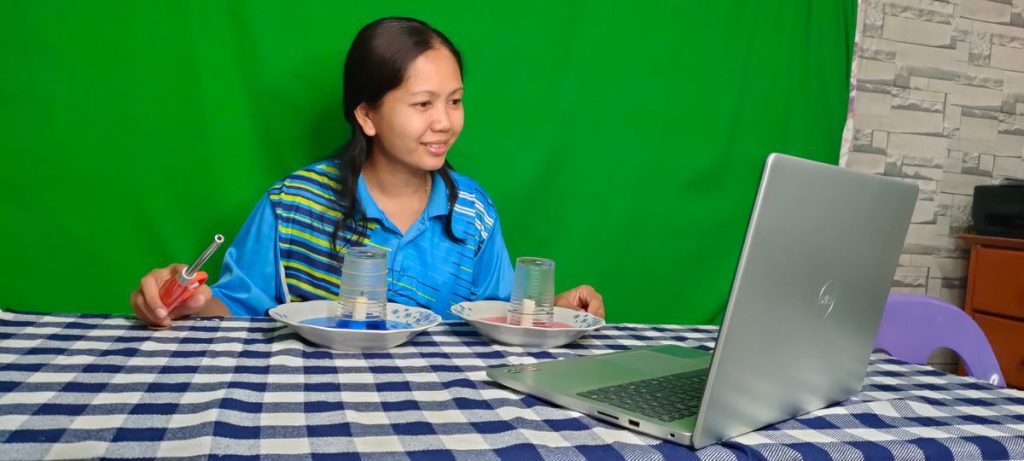 Issued by:
Yayasan PETRONAS
For media enquiries, please contact:
Yayasan PETRONAS
Carol Wong: +60 12-296 9281 | wong.yuetmeng@petronas.com.my
PETRONAS
Estee Aina Huslan: +6012 2283377 | esteeaina.huslan@petronas.com