KUALA LUMPUR, 25 April 2022 – Yayasan PETRONAS continues its annual series of festive contribution activities in conjunction with the upcoming Hari Raya Aidilfitri celebrations nationwide.
The Foundation, in collaboration with PETRONAS' regional offices, will be distributing festive food items and personal hygiene care packages to 3,900 beneficiaries from low-income groups through Jabatan Kebajikan Masyarakat (JKM) as part of its Sentuhan Kasih festive programme.

This time around, B40 families across Selangor, Johor, Melaka, Pahang, Perak, Terengganu, Kelantan, Negeri Sembilan, Perlis, Kedah, Labuan, Sarawak, Sabah, Penang, and Kuala Lumpur will be receiving a total of RM927,422 worth of items.
Food supplies contributed include rice cubes, coconut milk, rendang paste, rice, cooking oil, sugar, flour and festive cookies sourced from Yayasan PETRONAS' Program MEKAR (Memampankan Ekonomi Asas Rakyat) participants in Kedah and Terengganu, as well as other B40 providers listed under JKM in East Malaysia. MEKAR is one of the Foundation's flagship programme that provides skills training to improve the standard of living and to strengthen the income stream of B40 communities sustainably.

The beneficiaries will also be receiving COVID-19 Test (RTK) kits, hand sanitisers, sanitising wet wipes and face masks.
Yayasan PETRONAS Chief Executive Officer, Shariah Nelly Francis said, "As we progressively transition and adjust to the new normal, it is important to keep in mind the needs of the less fortunate families, especially with the increasing cost of essential food items during the festive season. We hope that the contributions made will help to ease the burden of these families and bring back the smiles of small business entrepreneurs during this challenging times."
Each year, Yayasan PETRONAS extends necessities aimed at improving the communities' well-being. The intent of the Sentuhan Kasih programme is to foster a memorable celebration for the underprivileged during the festive seasons.
The Sentuhan Kasih programme is part of Yayasan PETRONAS' community well-being and development focus area. The programme is also in line with the PETRONAS Sustainability Agenda and the United Nations' Sustainable Development Goals.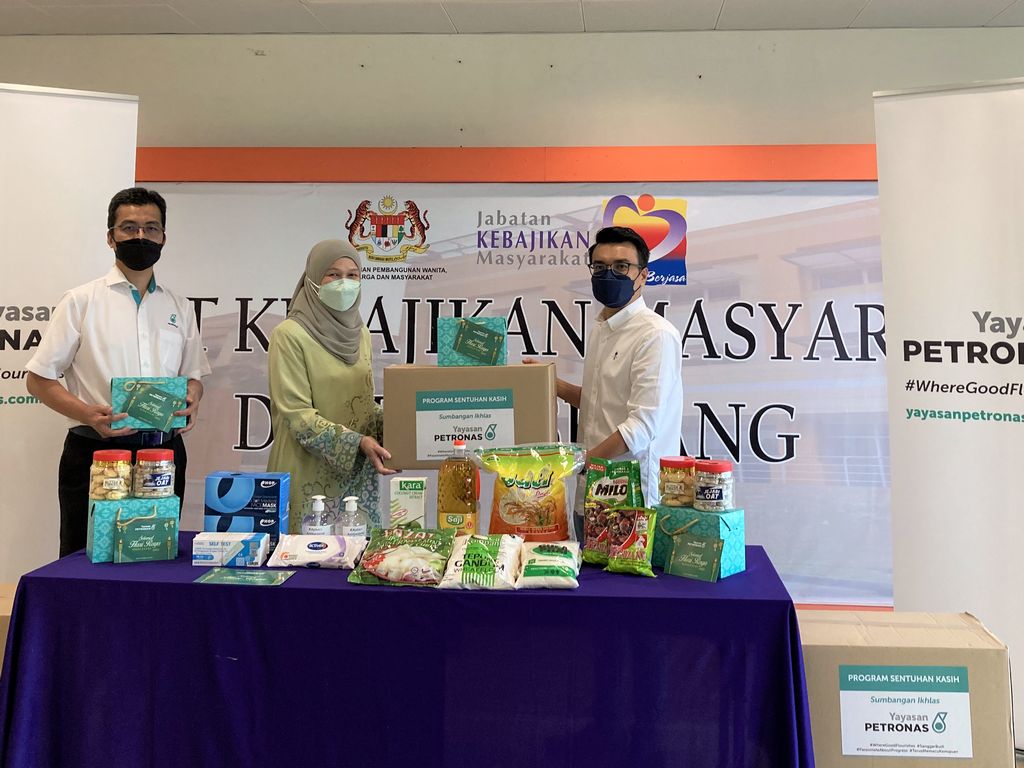 Issued by:
Yayasan PETRONAS

For media enquiries, please contact:
Yayasan PETRONAS
Carol Wong : +60 12 296 9281 | wong.yuetmeng@petronas.com
PETRONAS
Taufik Atman : +60 19 669 9579 | taufik.atman@petronas.com